I voted "NO" on Funding a New Police Academy--an Open Letter from Ald. Maldonado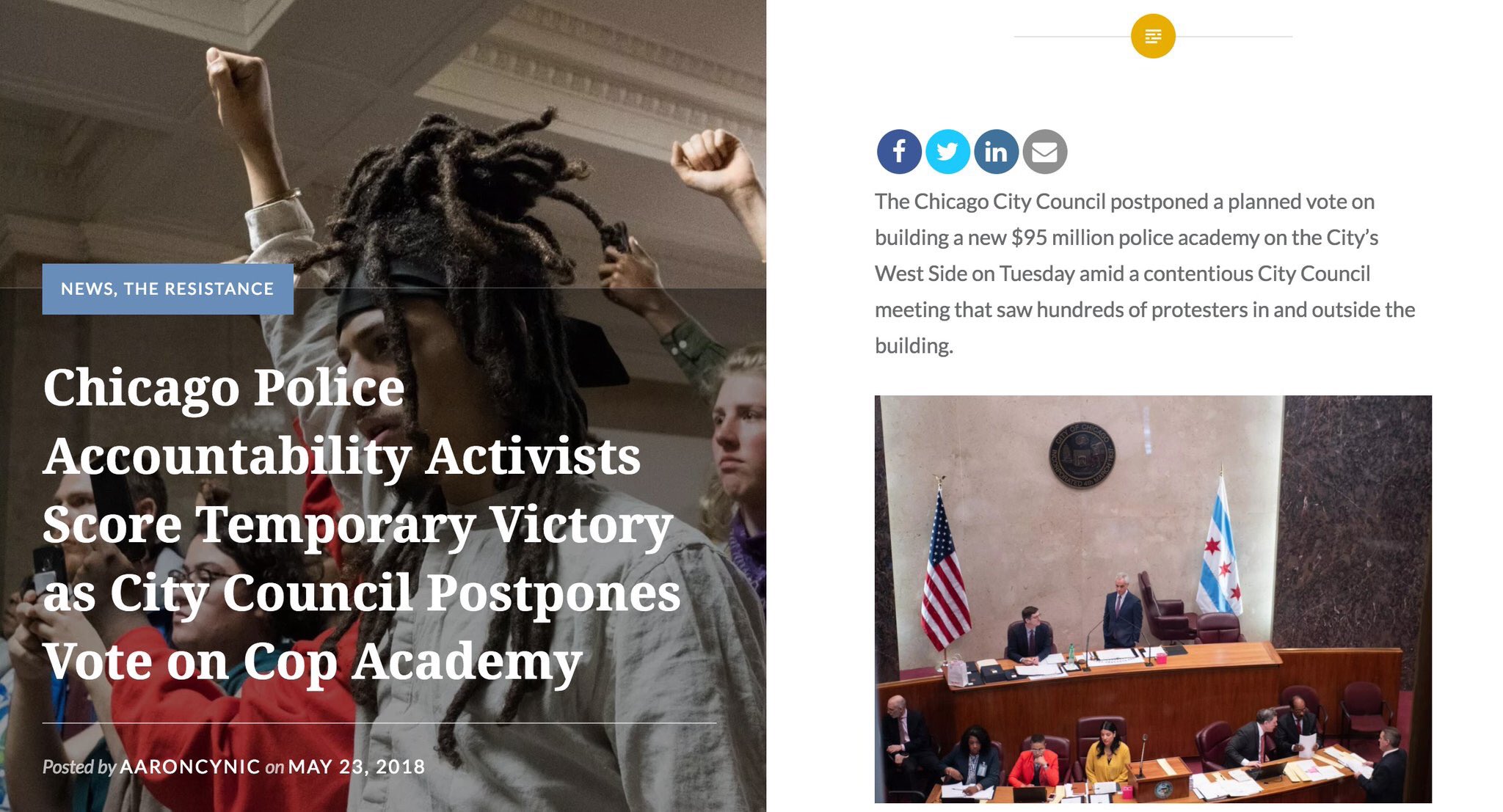 This Wednesday, I voted NO on the $95 million appropriations for the new police academy (Item #2 on the Budget Committee report). I voted NO before the move to Defer and Publish was entered into the record and the meeting was adjourned.  
To my knowledge, my office has received zero calls or emails in support of the new cop academy but instead several against it.  
My vote on record reflects not only my sentiments but that of my constituents. In the face of today's meeting, my position remain
s unchanged. It is still "NO".
The City needs to get its funding priorities in order.
Instead of constructing a brand new building, the City of Chicago should make massive investments in our schools, mental health, violence prevention and job training programs on the west and south sides.
There are several anti-violence and prevention organizations that are in need of funds to help steer our youth away from gangs and violence and into jobs and colleges.
It should never be about the buildings, but the people.
Ald. Maldonado Launches Campaign to Keep Seniors in Their Homes
(May 23, 2018)--Seniors, 60 and older, can receive small home repairs free of charge--even if they are renters. The City of Chicago's Small Accessible Repairs for Seniors (SARFS) program provides safety, security and accessibility improvements that help senior citizens to remain in their homes.
"I'll be using social media, robo calls, and distributing flyers in the ward so all seniors can have these free repairs that keep them in their homes and apartments," said 26th Ward Alderman Roberto Maldonado.
Improvements are limited to minor repairs that may include, but aren't  limited to:
Grab bars
Lever faucets
Door repairs
Carbon monoxide detectors
Smoke detectors
Wheelchair ramps
Widen doorways
Replace solid doors, storm doors, vanities, toilets, and floor tiles
Seniors making $47,400 or less are eligible
.  They may be owners or renters residing in a one- to four-unit building. Senior renters must have permission from the landlord. The landlord needs to certify that he or she will not increase the rent as a direct result of SARFS improvements.
LUCHA's SARFS Program is available to assist seniors with the following:
Process the application
Go on-site to determine services needed
Make the repairs
LUCHA's Program Assistant, Ana Velez, can be reached at 773-276-5338 x 226 or via avelez@lucha.org.
Maldonado is also hosting his 7th Job Fair on Thursday, June 7th from 10am to 2:00pm at the Humboldt Park Field House at 1400 N. Sacramento. Employers include:
| | | |
| --- | --- | --- |
| Access United | Education Partners-CHA | Premier Home Health Care |
| Aramark | Elite Staffing | Ritz-Carlton Hotel |
| Areoteck Recruiting & Staffing | Employment and Employer Services | Rush Hospital |
| At Your Service | Family Dollar | Safe and Reliable Living |
| BSD Industries | First Student | Safer Foundation Table & Mobile |
| Bulls Eye Jobs | Heartland Alliance Human Care Service | Salem Staffing |
| Casa Central | HomeGoods | SCR Medical Transportation |
| Center for New Horizons | Illinois Central School Bus | The Blackstone Group |
| Chicago Commons | KDT Virtual Solutions. Inc. | TJ Mass |
| Chicago Cook Workforce Partnership | Marshall"s | UCAN |
| Derrick Final Cleaning & Construction |  O'hare McDonald's                       | United Parcel Service |
|   |  Pep Boys / Auto Plus | Walgreen's |
|   |   |   |
|   |   |   |
|   |   |   |
|   |   |   |
|   |   |   |
|   |   |   |
|   |   |   |
|   |   |   |
|   |   |   |
|   |   |   |